Meetings
Boardroom
| | | | |
| --- | --- | --- | --- |
| Theatre | Boardroom | Reception | Classroom |
| 35 | 16 | 50 | 25 |
Special Support Facilities

| | | | |
| --- | --- | --- | --- |
| | Integrated sound system | | Overhead Projector |
| | Microphones | | TV/video equipment |
| | Tape recorder | | Display board |
| | Slide projector | | Easel board |
| | Screen | | |
Special Facilities & Services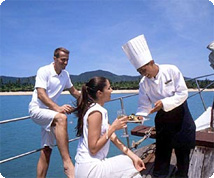 Very Special
Imagine sipping your favorite cocktails as you take in the breathtaking sight of a tropical island sunset.

There can be few moments as delightful and as romantic as taking a cruise aboard Santiburi's over 50-year-old Siamese sailing junk, "Tangaroa" at sunset when all the rich colors of Samui' s enchanting coastline come alive.

A sunset cruise is but one of the voyages of discovery you can take aboard the "Tangaroa". Others include snorkeling, fishing, BBQ and honeymoon cruises, as well as tailor-made excursions that offer the best way to appreciate Samui and its surrounding islands.

Very Relaxing
For a sense of well being and relaxation there is nothing quite like a traditional Thai massage. At Santiburi you can take an invigorating herbal massage without moving from the beach. Just lie in the shade of a palm tree and let our qualified masseuses provide the time-proven treatments for health and fitness of body and mind.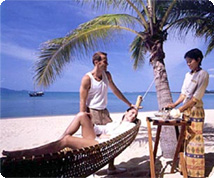 Very Beautiful
With magnificent shore line studded with fine sandy beaches, bathed by a clear blue sea and set against a background of green hills, Koh Samui is possibly Thailand's loveliest tropical island.

Here, just an hour's flight from Bangkok, you'll discover the perfect escape into an idyllic tropical paradise. The natural setting is unparalleled and unspoilt, while all is balanced by superb facilities to fulfill every dream of a fantasy island.

Adding to the wonder of it all is Santiburi Dusit Resort, renowned for offering the most exclusive and secluded hideaway in Samui, where the sheer peace of the island is matched only by unashamed luxury.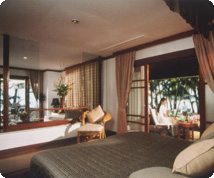 Very Luxurious
Like a superior privat home, Santiburi provides individual accommodation that offers the last word in luxury.

Hidden among the tropical greenery, and widely spaced for optimum privacy, are 12 Equatorial suites, 59 deluxe villlas and 2 Santiburi suites. Each villa is designed like an elegant Thai home, with beutiful wooden floors, opulent Siamese furnishings and a large terrace overlooking the beach or gardens.

Modern state of-the-art amenities have been discreetly infused into the tradition of Thai Style ambience. From the magnificently appointed bathrooms to satelite television, and video and CD players, everything has been provided for the enjoyment of pampered luxury. A world of gracious living, in natural and relaxed surroundings.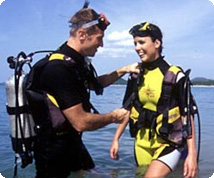 Very Pampered
Lazing on the beach soaking up the sun, taking a cooling dip in the clear blue waters of the Gulf of Siam. With 300 metres of white flawless beach just a few steps from your Villa, the pure simple pleasures of sun, sea and sand can be indulged to the full at Santiburi.

Should you care for a ittle more activity, there are plenty of opportunities for watersports. Windsurfing and dinghy sailing are available for accomplished enthusiasts and novices alike. For the really adventurous there are many fine Scuba diving and Snorkelling sites around the island.

There is also a magnificent swimming pool and whirlpool for your further enjoyment in the sun, all surrounded by the refreshing greenery of the tropical gardens.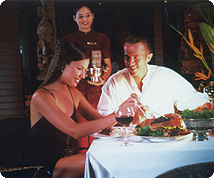 Very Tempting
Dining at Santiburi is a delight as much for the romantic venues as well as for the diverse choice of culinary styles.

Royal Thai cuisine is the speciality of Sala Thai, whilst delicious international and seafood dishes are served at Vimarnmek. Both restaurants add to the dining esperience by offering settings in either elegant airconditioned comfort or on palm-shaded terraces open to the cooling sea breeze.

In less formal tyle, the Rim Talay Beach Bar, Pool Bar and Taksin Lobby Lounge provide pleasingly casual venues for drinks and light meals.

Attentive yet unobtrusive service in the timeless Thai way, complements the culinary excellence and the irresistible charm of the surroundings.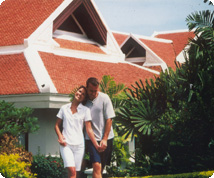 Very Tranquil
Santiburi Dusit Resort is very special. Its name translates as "Peaceful Town", a title truly fitting as here you'll enjoy tranquillity with all the deluxe comforts to savour it to the fullest.

Located on Koh Samui's quieter, mor traditional northern shore, Santiburi stands alone amid twenty three acres of lush gardens, facing its own palm-shaded beach. In this tropical setting, the low-rise resort has been designed as a modern interpretation of traditional Thai architecture to be in total harmony with its natural surroundings.

Matching the design is a style of hospitality that is again uniquely Thai. It all combines to produce a retreat of rare distinction with nothing overlooked to ensure a perfect stay.

Recreational Facilities

| | |
| --- | --- |
| | 50 meters swimming pool |
| | Aerobics studio |
| | Canoe |
| | Children's pool |
| | Fitness center |
| | Floodlit tennis courts |
| | Golf putting practice facility |
| | Gymnasium |
| | | | |
| --- | --- | --- | --- |
| | Video & CD Library Complimentary | | Jogging track |
| | Table tennis | | Sailing |
| | Volleyball | | Sauna |
| | Whirlpool | | Squash court |
| | Windsurfing | | |
Other Facilities & Services

| | | | |
| --- | --- | --- | --- |
| | 24-hour room service | | Medical service |
| | Baby-sitting | | Souvenir shop |
| | Barber and beauty salon | | Tour and travel service |
| | Car rental | | Transfer service |
| | Florist | | Internet |
| | Foreign exchange | | Oversea Call, Facsimile |
| | Laundry and dry-cleaning service | | Security Guard |
| | Massage | | Baggage Storage |
| | Santiburi Spa | | |