Dining at Santiburi is a delight as much for the romantic venues as well as for the diverse choice of culinary styles. Attentive yet unobtrusive service in the timeless Thai way, complements the culinary excellence and the irresistible charm of the surroundings.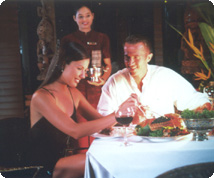 Sala Thai
A traditional Thai restaurant where guests can enjoy the finest Royal Thai cuisine in typical surroundings and experience the real flavor of Thai hospitality. Located on the first floor Open for dinner from 19.00 hrs. to 22.00 hrs.

Vimarnmek
The restaurant is open from early morning to late night offering a variety of Asian and Western cuisine and seafood specialties. For breakfast, guests can choose from the Dusit Health, American, Continental or Oriental selection. Dinner is served in an elegant romantic candlelight atmosphere where the tabletop is set up with silver and crystal. Open for breakfast from 07.00 hrs. to 11.00 hrs. and dinner from 19.00 hrs. to 22.00 hrs.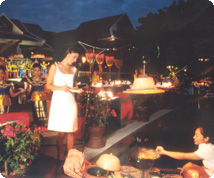 Rim Talay Beach Bar
Surrounded by palm trees and a soft rolling sea, the Rim Talay is the perfect setting for tropical fruit cocktails and a light meal. Whether on the beach or at the bar, service is available from 11.00 hrs. to 19.00 hrs.

Pool Side Bar
For those relaxing by the pool and in the need of refreshments, our bar staff will be happy to served you the drink of your choice. Light snacks can also be ordered from our pool side menu. Open from 11.00 a.m. to 23.00 hrs.

Taksin Lobby Lounge
This harmoniously decorated lounge is situated in the main lobby and is opensided to a tranquil view of the lobby and overlooking the pool to Tropical Garden beyond. Drinks and snacks are served from 4 p.m. until midnight

Room Service
The service is available 24 hours. Private BBQ on the terrace of your villa is a room service specialty not to be missed.

Restaurants & Lounge

| | |
| --- | --- |
| Venue | Cuisine |
| Sala Thai | Royal Thai Cuisine |
| Vimarnmek | International with seafood specialties |
| Rim Talay Beach Bar | Drinks, light meals and weekly theme nights |
| Pool Side Bar | Drinks and light meals |
| Taksin Lounge | Cocktails |
| Room Service | International |

Theme Night


Throughout the week a festival of culinary delights unfold for you on various nights.